Michael Gilkes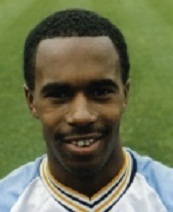 | | |
| --- | --- |
| Date of Birth | 20/07/1965 |
| Total Appearances | 486 |
| Starts | 430 |
| Substitute Appearances | 56 |
| Goals | 52 |
| Time at Reading FC | 4643 days |
| Joined Reading FC | 10/07/1984 |
| Left Reading FC | 27/03/1997 |
Gilkes played more than 550 times as a professional and made his name with the Reading side that nearly won promotion to the Premier League in the early 1990s. A fast, tricky winger, he made over 400 appearances in all competitions for the Berkshire club as they went from the old Fourth Division to the very edge of the top flight. They finished second in the new Division One in 1995 (only missing out on automatic promotion due to the streamlining of the FA Premier League from 22 clubs to 20) and reached the playoff final, surrendering a 2–0 lead held until the 75th minute before losing 4–3 in extra time to Bolton Wanderers. At the Rumbelows Cup Final in 1992 at Wembley Stadium he came third in the Rumbelows Sprint Contest.
Gilkes spent nearly thirteen years with the Royals, scoring 52 goals, before he was sold to Wolves in March 1997, managed by Mark McGhee who had departed from Reading to Wolves 16 months earlier.
He spent two seasons at Molineux before manager Keith Stevens signed him for Millwall. His time at the Molineux was less successful than it was at Elm Park, scoring just once in 38 league appearances, though he did come close to reaching the Premier League with them just as he had done at Reading. He joined Wolves just weeks before the end of the 1996–97 season, as they were edged out of the automatic promotion places to Barnsley and lost to Crystal Palace in the playoffs. A year later they finished ninth, missing out on the playoffs, but enjoyed a run to the FA Cup semi finals where they narrowly lost to Arsenal.
In a vote to compile the Royals' best-ever eleven, Gilkes was voted the best left-winger with 80.6% of the vote. Gilkes played at the Madejski Stadium in the Royals Legends game on 1 May 2006.
Gilkes has re-joined Reading F.C. as part of the coaching team.