Martin Hicks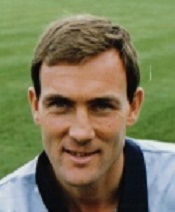 | | |
| --- | --- |
| Date of Birth | 27/02/1957 |
| Total Appearances | 603 |
| Starts | 601 |
| Substitute Appearances | 2 |
| Goals | 26 |
| Time at Reading FC | 4883 days |
| Joined Reading FC | 15/02/1978 |
| Left Reading FC | 30/06/1991 |
| Clubs | Charlton Athletic, Birmingham City |
| Honours | Reading: Fourth Division Championship 1979, promotion to Division Three 1983/84, Third Division Championship 1985/86, Simod Cup winners 1988; "Player of the Year" 1990. |
Despite having trials with Reading and scoring on his Reserve team debut in 1976, Martin Hicks was allowed to leave Elm Park and joined Charlton Athletic. But when Maurice Evans took charge as Manager, one of his first tasks was to bring Martin back to Reading.
For the next 13 Years Martin was the club's first choice Centre-back, and for the majority of that time, an inspired captain.
During his spell, Reading won a Fourth Division Championship in 1979, promotion to Division Three in 1983/84, the Third Division Championship in 1985/86, the Simod Cup in 1988 and was voted "Player of the Year" in 1989/90.
Martin holds the record for the highest number of first team appearances by a Reading player, making a total of 603 first team appearances, scoring 26 goals.